For our first high street look we have gone for the well-known Scandinavian style that everyone seems to love and use within their own homes.
What is the Scandinavian Interior Trend?
We know that the Scandi look reflects the style of the Nordic countries with a clean and minimalist feel while bringing some earthly tones in to add warmth. The question is: how can we achieve this look without spending thousands?
Well you've come to the right place. We have focused on one particular high street brand that has recently opened up a concept store in London! H&M HOME!
This is by far my all-time favourite place to shop when it comes to high street interiors – they've got everything from bedding, cushions, cutlery and bathroom accessories! A lot of their interiors are based around the simple/minimalistic design, so it was easy to find a range of items to achieve the Scandi look!
Have a look through the gallery below to find links to all things beautiful, simple and scandi from H&M.
We have looked at other suppliers that could aid in delivering the minimalist, scandi style including the favourite: IKEA. They have got a very nordic/simple collection called BJÖRKSNAS. Have a look on the link below to see how IKEA have styled this look.
https://www.ikea.com/gb/en/ideas/björksnas-natural-bedroom-furniture-built-to-last-1364543181146/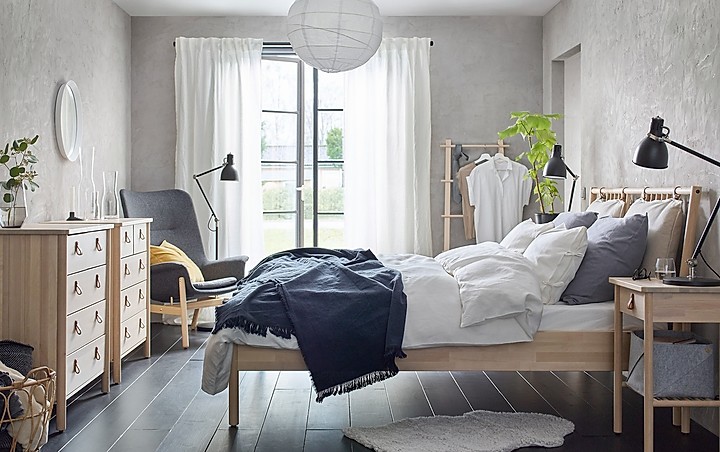 So, the question is: How can we achieve this look in our HMO's?
The first step is to go back to that beautiful Scandi mood board you can create in Pinterest. If you haven't got one, find an example of ours on our Pinterest page!
https://www.pinterest.co.uk/hedgehoginteriors/scandinavian-interior/
Instead of going straight to IKEA for all of your furniture, try searching into google "Scandinavian bedside table" and see what appears. You will find something within your price budget, with good reviews and durable quality. This is what you want to be looking for so you can create that Scandinavian look on a budget! Take a look below at what we found when we searched this into Amazon…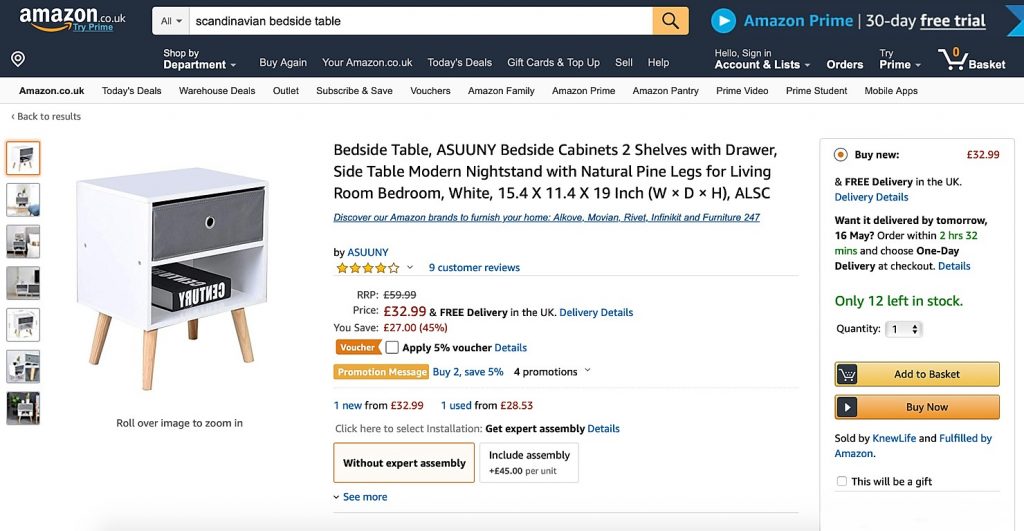 We've found a simple, modern bedside table for £32.99. The reviews are really good and the size is perfect for what we are looking for. This is actually CHEAPER than the IKEA Malm 2 drawer unit.
Another way of achieving this is thinking about the colours and materials you are using. For example if you are using Howden's kitchens – think about keeping to white kitchen units with a light-wood counter top.
There are many ways to achieve a clear, exciting and different design within your properties. If you have any questions, send us an email and we can arrange a free consultation to see how we can help.
#hedgehoginteriors #hedgehogstudios #scandinaviandesign #scandinavianinterior #hedgehub